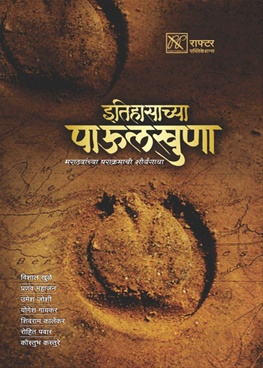 इतिहासाच्या पाऊलखुणा भाग १
Authors:
श्री. कौस्तुभ कस्तुरे

,
श्री. प्रणव महाजन

,
श्री. रोहित पवार

,
श्री. शिवराम कार्लेकर

,
श्री. उमेश जोशी

,
श्री. विशाल खुळे

,
श्री. योगेश गायकर

Publication:
राफ्टर पब्लिकेशन्स

Pages: 332
Weight: 370 Gm
Binding: Hard Cover
ISBN13: 9788192237978
Share This Link:
http://www.bookganga.com/R/69MGS
Hard Copy Price:
R 325
R 293 / $ 4.51
FREE Delivery in India on orders over ₹499.00
For International orders shipment charges at actual.
Buy Book
eBook Price: R 325 R 260 / $ 4.00
Standard delivery in 2-3 business days | Faster Delivery may be available
Brings out different perspectives on some of the aspects of Maratha History. Nice book. Worth reading and keeping in personal collection
01-08ГÃ11¾Ã'€Ð´Ð¾Ñ-Ã''ÑŒ РФ пишет: Дико извиняюсь, читал не все коменты, плагиат получилси :))Теперь прозрел)) Автору готов пожать обе руки)) +8Был ли этот ответ полезным?
मराठ्यांच्या इतिहासातली अनेक अज्ञात पाने उलगडण्याचे काम या पुस्तकाने केले आहे. लेखकांचे अभिनंदन.
A very Praiseworthy book, found many unknown facts about Maratha empire history. References in each chapter makes this book very authentic.