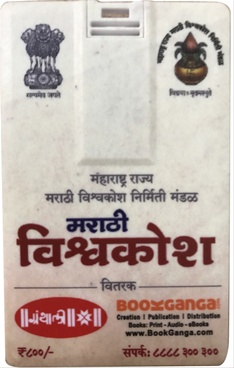 मराठी विश्वकोश ( पेन ड्राईव्ह मध्ये उपलब्ध )
Publication:
महाराष्ट्र राज्य मराठी विश्वकोश निर्मिती मंडळ

Pages: 1
Weight: 20 Gm
Binding: Hard Cover
Hard Copy Price:
10% OFF
R 800
R 720 / $ 10.29
FREE Delivery in Maharashtra on orders over ₹499.00
For International orders shipment charges at actual.
Buy Book
Standard delivery in 2-3 business days | Faster Delivery may be available
This doesnt work on Windows 10
SACHIN SAVARKAR
02/11/2017
respected authorities, I have been trying to install it on my windows 10. but it did not. please help me how to do it.
I am staying at Panvel - Navi Mumbai. Can you please deliver at my address.
Very Nice! Exactly what I was looking for! And super simple to use!