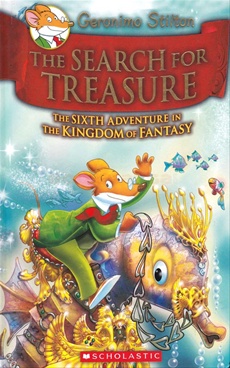 Search For Treasure : Sixth Adventure Kingdom In The Fantasy
Geronimo Stilton
Publication:
Scholastic India Pvt. Ltd.

Pages: 320
Weight: 460 Gm
Binding: Hard Cover
ISBN10: 9351033147
ISBN13: 9789351033141
Hard Copy Price:
R 595 / $ 8.50
FREE Delivery in Maharashtra on orders over ₹499.00
For International orders shipment charges at actual.
Buy Book
Standard delivery in 2-3 business days | Faster Delivery may be available
Preview
Summary of the Book
The evil empress of the witches was after the Royal Sapphire. If she united it with her Royal Ruby, it would give her immense power.

The entire Kingdom of Fantasy was in danger! It was up to me to find the two gemstones first, with the help of new friends -- and this time, I had to travel in disguise. Cheese niblets! What an incredible journey!