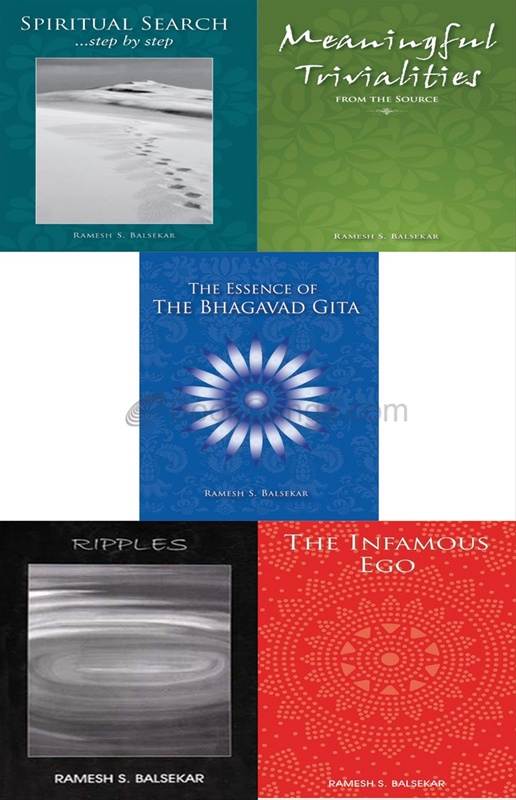 Quick Dose Balsekar [Set of 5 books]
Authors:
Ramesh S. Balsekar

Publication:
Zen Publications

Pages: 312
Weight: 198 Gm
Binding: Paperback
ISBN13: 9789382788751
Hard Copy Price:
25% OFF
R 525
R 393
/ $ 5.61
Shipping charges will be applicable for this book.
For International orders shipment charges at actual.
Buy Print Book
Standard delivery in 2-3 business days | Faster Delivery may be available
Preview
Summary of the Book
Following titles are included in this set:
1. The Infamous Ego
2. Meaningful Trivialities From The Source
3. Ripples
4. Spiritual Search….Step by step
5. The Essence of the Bhagvad Gita


Ramesh S. Balsekar was one of the most profound spiritual Masters of this Age. He was both a brilliant writer and a
captivating speaker. Shortly after retiring as the President of the Bank of India, he met the sage Nisargadatta Maharaj and began translating for Maharaj's daily morning talks. It was not long before Ramesh too experienced the Ultimate Understanding. He was therefore a wonderful blend of East and West, spiritual and material. His compassion and
gentle humor infuse the Teaching with an energy that can only be described as being uniquely Ramesh.