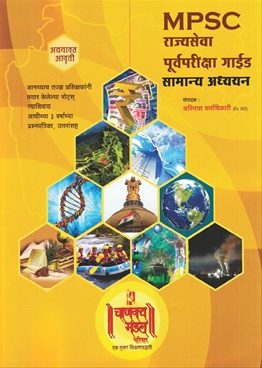 MPSC राज्यसेवा पूर्वपरीक्षा गाईड
सामान्य अध्ययन
Publication:
चाणक्य मंडळ परिवार

Pages: 416
Weight: 706 Gm
Binding: Paperback
Hard Copy Price:
10% OFF
R 450
R 405 / $ 5.79
FREE Delivery in Maharashtra on orders over ₹499.00
For International orders shipment charges at actual.
Buy Book
eBook Price: 50% OFF R 450 R 225 / $ 3.21
Standard delivery in 2-3 business days | Faster Delivery may be available
Preview
Summary of the Book
आमच्या तज्ज्ञ प्रशिक्षकांनी तयार केलेल्या नोटस्‌. त्याशिवाय आधीच्या ६ वर्षांच्या प्रश्नपत्रिका, उत्तरांसह.
Books of chanakya mandal is too good ultimate book
sandeep shivaji jangam
28/02/2015
MPSC राज्यसेवा पूर्वपरीक्षा गाईड online purchas gaide plz...
He kontya varshachi awrutti ahe??? Mala 2015 sathi havay!
very nice.................
JAWED JAHANGIR TADAVI
22/11/2014
Mala MPSC(STI) Rajyaseva Purv pariksha chy tayyari sathi yogya books guide kara...
this is very useful of all mpsc student
Umesh S.Gawade
19/09/2014
Mala books pahije hote sir.
hemantkumar dagadu chavan
31/07/2014
i dont have this book but i have seen this book by my friend i feel very satisfied to read this book because it contents are exactly as we see in the question paper , after some days i will also buy all that set of rajya seva ,for that i have to do overtime duty........
This is very useful for mpsc students
sir, MALA RAJYASEVA PURAV PARIKASESATHI CHAGLI BOOKS CHI MAHITI DHY.
Govind Karnavar- patil
22/02/2013
apritam......