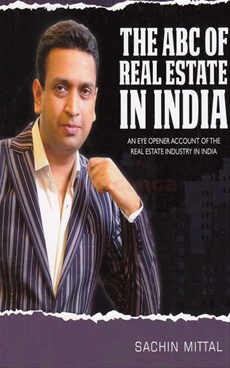 The ABC Of Real Estate In India
Authors:
Sachin Mittal

Publication:
White Falcon Publishing

Pages: 212
Weight: 301 Gm
Binding: Paperback
ISBN13: 9789387193161
Share This Link:
https://www.bookganga.com/R/805GW
Hard Copy Price:
9% OFF
R 225
R 205 / $ 2.93
FREE Delivery in Maharashtra on orders over ₹499.00
For International orders shipment charges at actual.
Buy Book
Standard delivery in 2-3 business days | Faster Delivery may be available
Preview
Summary of the Book
THE REAL ESTATE SECTOR IS GROWING AT A PHENOMENAL RATE AND IS THE SECOND LARGEST EMPLOYER IN INDIA AFTER AGRICULTURE. HAVING ATTAINED MATURITY. THE REAL ESTATE SECTOR IS NOW ATTRACTING HUGE INVESTMENTS, ESPECLALLY IN THE FORM OF FDI.
SURPRISINGLY. EVERY MAN'S COMMON DREAM OF OWNING A HOUSE DIRECTLY CONNECTS TO THE REAL ESTATE SECTOR.
THIS BOOK HAS BEEN WRITTEN TO PROVIDE THE BASIC INFORMATION WHICH EVERYONE SHOULD POSSESS IN ORDER TO INVEST IN REAL ESTATE .TI DISCUSSES THE FOUNDATION ,DYNAMICS AND MARKETING ASPECTS OF THE REAL ESTATE SECTOR AND TAKES THE PURVIEW OF THE ENTIRE
THERE IS ALSO AN EQUAL FOCUS ON THE CUSTOMER'S POINT OF VIEW AND AN EXPERT ANALYSIS OF THE CUSTOMER IN DUSTRY BOND. PERHAPS , THIS AND MANY OTHER ASPECTS ARE INCULCATED IN THE BOOK TO CLARIFY THE IMPORTANCE OF THE INDUSTRY IN THE BY LANES OF THE INDIAN ECONOMY.