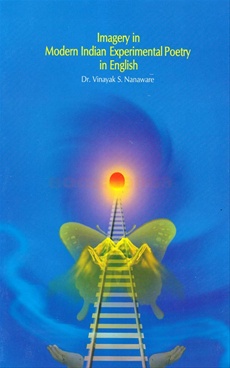 Imagery In Modern Indian Experimental Poetry In English
Authors:
Dr. Vinayak S. Nanavare

Publication:
Vidya - Vaibhav Prakashan

Pages: 244
Binding: Paperback
Share This Link:
https://www.bookganga.com/R/1NSV8
Hard Copy Price:
5% OFF
R 250
R 237 / $ 3.39
FREE Delivery in Maharashtra on orders over ₹499.00
For International orders shipment charges at actual.
Buy Book
Standard delivery in 2-3 business days | Faster Delivery may be available
Preview
Summary of the Book
भारतीय लेखकांनी इंग्लिश भाषा व साहित्यात उल्लेखनीय भर घातली आहे, हे निर्विवाद सत्य आहे. 'इमेजरी इन मॉडर्न इंडियन एक्सपरिमेंटल पोएट्री इन इंग्लिश' या संशोधनग्रंथात डॉ. विनायक ननावरे यांनी चार प्रसिद्ध भारतीय कवींच्या इंग्लिश काव्यरचनेतल्या इमेजरी- वापराचा शोध आणि वेध घेतला आहे.

इमेजरी म्हणजे ज्ञानेंद्रियांना स्पर्श करणारे शब्दचित्र. हा ग्रंथ डॉ. ननावरे यांनी पीएच. डी. पदवीसाठी सादर केला होता.