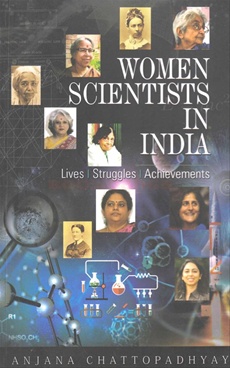 Women Scientists In India
Lives/Struggles/Achievements
Authors:
Anjana Chattopadhyay

Publication:
National Book Trust, India

Pages: 492
Weight: 556 Gm
Binding: Paperback
ISBN13: 9788123781440
Hard Copy Price:
5% OFF
R 485
R 461 / $ 6.59
FREE Delivery in Maharashtra on orders over ₹499.00
For International orders shipment charges at actual.
Buy Book
Standard delivery in 2-3 business days | Faster Delivery may be available
Preview
Summary of the Book
Indian women have had a strong presence in the sciences for well over a century. Yet much of the remarkable achivements and contributions of the development of the science in india have either largely been ignored nor given due attention. The story of Indian women scientists has been one of struggal. Overarching social structures, uneasy access to education, discriminatio and opposition in homes, study and workplaces contributed mainly to the impediment of the progress of women in science. has today, to a large extent cemented the path for future generation, to fulfill their scientific ambitions.
This book, a major contribution to the study of history of science in India, is culled from various sources including newspapers, journals , travelogues and dissertations.