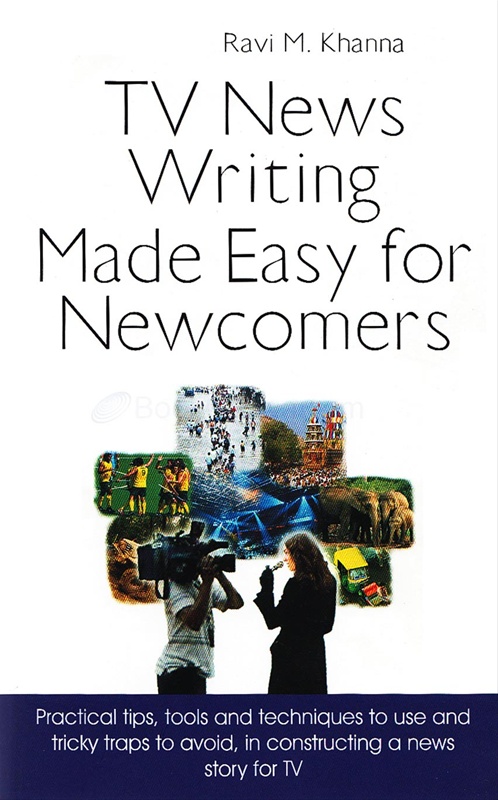 TV News Writing Made Easy For Newcomers
NO ACADEMIC THEORIES, BUT PRACTICAL STEP-BY-STEP TIPS, TOOLS AND TECHNIQUES TO USE AND TRAPS TO AVOID IN CONSTRUCTING A TV NEWS STORY
Author:
Ravi M. Khanna

Publication:
Wisdom Village Publications

Pages: 130
Weight: 142 Gm
Binding: Paperback
ISBN13: 9789380710174
Hard Copy Price:
25% OFF
R 225
R 169
/ $ 2.41
Shipping charges will be applicable for this book.
For International orders shipment charges at actual.
Buy Print Book
Standard delivery in 2-3 business days | Faster Delivery may be available
Preview
Summary of the Book
"TV News has become an attractive career option today for young boys and girls and this book tells them about the basics that can equip them to do their job professionally." -H K Dua, Senior Journalist and Member of Parliament

"The recent changes in the Indian electronic media have increased the demand for competent media professionals and Ravi Khanna's book will prove to be an asset for those aspiring to enter the profession in making them competent to face the challenges."-Sharad Dutt, Programming (Head) P7 News and Former DDG Doordarshan

"The book provides simple, easily understood guidelines for TV News writing with a lot of examples. I am sure this will prove an extremely useful guide for aspiring television professionals."

-Sunit Tandon, Director General, Indian Institute of Mass Communication

"The life long experience of the author as a television journalist is manifested in this very handy book on TV journalism which will be of immense help to students of media studies."

-Neelam Mahajan Singh, Senior News Correspondent, Prasar Bharati, TV News

"There are a number of books on TV journalism, but none could shape a newcomer into a complete TV professional. Ravi's book fills this void by offering useful tips that can guide a budding journalist's journey towards success. The book's simple language and uncluttered approach will make it a great hit with journalism students and practicing journalists."-Rajesh Badal Executive Director, Rajya Sabha Television

Book Detail:

They say journalism is like swimming. It cannot be learnt by reading text books that explain theories about it sitting at your desk. You have to jump into the pool, in case of swimming and into the field in case of journalism. But in the beginning you must wear a safety device around your waist when you learn how to swim. And in case of journalism, you must carry this practical guide with you, in your mind, when you jump in the field with a camera or a camera-person.