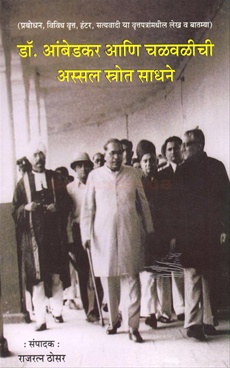 डॉ. आंबेडकर आणि चळवळीची अस्सल स्तोत्र साधने खंड १
Publication:
विनिमय पब्लिकेशन्स

Pages: 712
Weight: 769 Gm
Binding: Paperback
Hard Copy Price:
25% OFF
R 550
R 412
/ $ 5.89
Shipping charges will be applicable for this book.
For International orders shipment charges at actual.
Buy Print Book
Standard delivery in 2-3 business days | Faster Delivery may be available
Santosh K Barve
23/06/2020
It's a phenomenal information about the movement done between 1920 to 1956...lead by the Legend Dr. B.R. Ambedkar. the author has taken so much efforts by collecting such information through different sources and compile in one book... For me It's not a only book but the such kind of compile hard disk where such information or incidents can share with one generation to another generation..
Chaitan Sonawale
23/06/2020
This is a very meticulously compiled book.
Rajratna Thosar
23/05/2019
लेखक, संशोधक, प्राध्यापक, PhD विद्यार्थी, संग्राहक आणि दर्दी वाचक यांच्यासाठी अतिशय महत्त्वाचा ग्रंथ. डॉ. बाबासाहेब आंबेडकर आणि त्यांच्या चळवळीसंबंधी १९२० ते १९५६ या कालखंडातील प्रबोधन, विविध वृत्त, हंटर आणि सत्यवादी या वृत्तपत्रात प्रसिद्ध झालेल्या अस्सल बातम्या आणि लेख यांचा खजिना. या खंडात आलेली सर्व माहिती पहिल्यांदाच उपलब्ध झालेली आहे. अशी दर्जेदार पुस्तके पुन्हा पुन्हा येत नसतात, आपली प्रत आजच बुक करा.