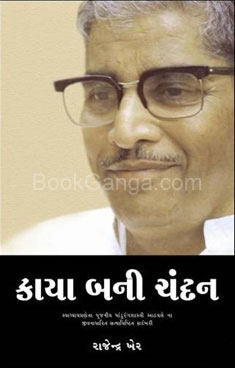 Kaya Bani Chandan(Gujarati)
Authors:
Rajendra Kher

Translators:
Mahendra Purohit

Publication:
Vihang Prakashan

Pages: 608
Weight: 684 Gm
Binding: Paperback
ISBN13: 9788188885336
Hard Copy Price:
25% OFF
R 490
R 368 / $ 5.26
Shipping charges will be applicable for this book.
For International orders shipment charges at actual.
Buy Book
eBook Price: 51% OFF R 490 R 240 / $ 3.43
Standard delivery in 2-3 business days | Faster Delivery may be available
Preview
Summary of the Book
"देह झाला चंदनाचा " याचा महेंद्रभाई पुरोहित यांनी केलेला गुजराती अनुवाद.
Hemant Manohar satam
01/09/2016
I read this book I like it.
all the swadyayies should have to read this book atlist one time..
Sagar Manoj Harilal
12/03/2013
I like dadaji
rajendra mangela
31/01/2013
i like this books i had read this book 3 time .