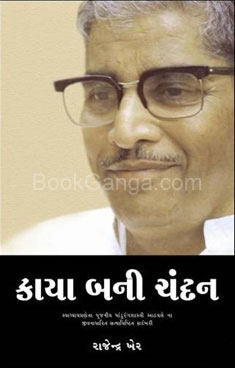 Kaya Bani Chandan(Gujarati)
Author:
Rajendra Kher

Translators:
Mahendra Purohit

Publication:
Vihang Prakashan

Pages: 608
Weight: 684 Gm
Binding: Paperback
ISBN13: 9788188885336
Hard Copy Price:
20% OFF
R 490
R 392
/ $ 5.60
Shipping charges will be applicable for this book.
For International orders shipment charges at actual.
Buy Print Book
eBook Price: 51% OFF R 490 R 240 / $ 3.43
Standard delivery in 2-3 business days | Faster Delivery may be available
Preview
Summary of the Book
"देह झाला चंदनाचा " याचा महेंद्रभाई पुरोहित यांनी केलेला गुजराती अनुवाद.
dodiya velshibhai
15/05/2020
this is wonderful book because the all point of dadaji and his all family and his all activities mr. dadaji is a greatest parson of all world
Hemant Manohar satam
09 Jan 2016 05 30 AM
I read this book I like it.
deep patel
03 Aug 2014 05 30 AM
all the swadyayies should have to read this book atlist one time..
Sagar Manoj Harilal
03 Dec 2013 05 30 AM
I like dadaji
rajendra mangela
31/01/2013
i like this books i had read this book 3 time .