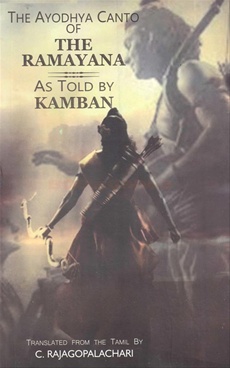 The Ayodhya Canto Of The Ramayana As Told By Kamban
Translators:
C. Rajagopalachari

Publication:
Sahitya Akademi

Pages: 128
Binding: Paperback
Hard Copy Price:
10% OFF
R 100
R 90
/ $ 1.29
Shipping charges will be applicable for this book.
For International orders shipment charges at actual.
Buy Print Book
Standard delivery in 2-3 business days | Faster Delivery may be available
Preview
Summary of the Book
This book comprises the uncounted versions of The Ramayana , one of the two great epics of India has its own Ramayana . The three most famous versions , however , are the Sanskrit , attributed to Valmiki , the sixteenth - century Hindi version by Tulsidas , and the ninth - century Tamil classic by Kamban.
Valmiki was the author of the original Sanskrit Ramayana. It is a book universally read with reverence throughtout India and is at the root of Indian culture . Kamban wrote a beautiful long poem rendering this epic into a Tamil song .Tulsidas has similarly rendered the epic into Hindi for the Hindi - speaking familyin India and read and sumg with rapture. Both Kamban and Tulsidas have made some variations in the story so as to suit the manners and the feelings of delicacy of the people of their times.
The translation in this book is of the Ayodhya Kandam , which deals with the story of Rama's leaving Ayodhya for the forest and Bharata's suffering as a result of what his mother did . The Ayodhya Kandam is the most dramatic chapter in the Rama legend . According to the best crities of Tamil literature , it is also the finest protion of Kamban 's great classic.
C.Rajagopalachari ( 1878 - 1972 ) , popularly known as "Rajaji" , the first Indian Governor General of India , was an ardent patriot , a pioneering social reformer , incisive thinjer , profound scholar and author . Rajaji had his education in Bangalore and madras . He was gifted with the rare talent of re - telling stories from the epics and the puranas . He wrote a number of enduring value as the Ramayana , the Mahabharata , the Gita and the Unpanishads. He was an accomplished writer and speaker in English and Tamil . He was givan the highest National Award , ' Bharat Ratna ' in 1954 and Sahitya akademi Fellowship in 1969.