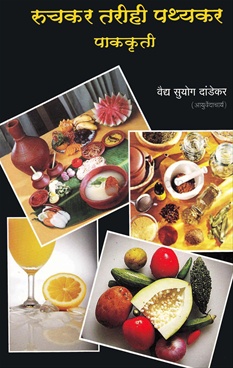 रुचकर तरीही पथ्यकर पाककृती
Authors:
अमोघ देशपांडे

,
निलम शिंगटे

,
सुयोग दांडेकर

Publication:
सुकृत प्रकाशन, पुणे

Pages: 120
Weight: 197 Gm
Binding: Paperback
ISBN13: 9788190974691
Hard Copy Price:
15% OFF
R 140
R 119 / $ 1.70
FREE Delivery in Maharashtra on orders over ₹499.00
For International orders shipment charges at actual.
Buy Book
Standard delivery in 2-3 business days | Faster Delivery may be available
Preview
Ratnakar Borate
20/04/2019
Food is energy, Human Life is for 100 yrs, Human Body is biological Machine. To maintain & operate this machine, soul always required Do's & Don't SOP. It expresses food for Body. But I do not find any articles from Dr. Nilam Shingate Madam. Front and rear pages are Well expressed. Recipes for illness cure & control....