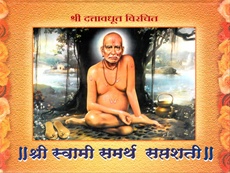 श्री स्वामी समर्थ सप्तशती
Authors:
स्वामी दत्तावधूत

Publication:
वनिता बुक्स

Pages: 72
Weight: 266 Gm
Binding: Hard Cover
Hard Copy Price:
R 130
/ $ 1.86
Shipping charges will be applicable for this book.
For International orders shipment charges at actual.
Buy Print Book
Standard delivery in 2-3 business days | Faster Delivery may be available
Santosh Rane
03 Jun 2018 05 30 AM
Swami tithe kay kami, Please experience through this book.
Excellent effective and helpful,I and many people are getting speachless experiences
ABHIJIT KELKAR
11 Mar 2011 05 30 AM
298, 7th cross , 4th main Nrupatunga Nagar, J P Nagar, 8th Phase Bangalore - 560078
विभव Ambardekar
05 Oct 2011 05 30 AM
खूप दिव्य पोथी आहे.उपासना करण्यासाठी उत्तम आहे.
Jitendra Patil
15/12/2010
vachun anubhav gheya...