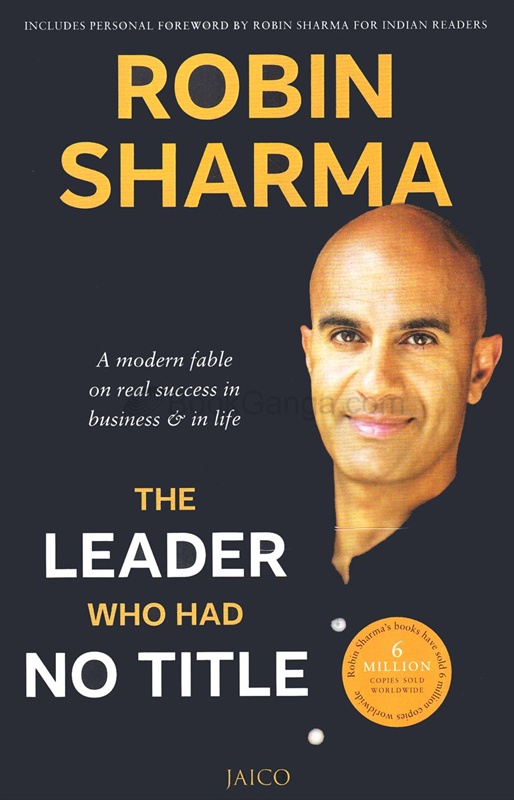 The Leader Who Had No Title
Author:
Robin Sharma

Publication:
Jaico Books

Pages: 203
Weight: 276 Gm
Binding: Hard Cover
ISBN10: 8184951191
Hard Copy Price:
10% OFF
R 250
R 225
/ $ 2.88
Shipping charges will be applicable for this book.
For International orders shipment charges at actual.
Buy Print Book
Standard delivery in 2-3 business days | Faster Delivery may be available
Preview
Summary of the Book
For more than fifteen years, Robin Sharma has been quietly sharing with Fortune 500 companies and many of the super-rich a success formula that has made him one of the most sought-after leadership advisers in the world. Now, for the first time, Sharma makes his proprietary process available to you, so that you can get to your absolute best while helping your organization break through to a dramatically new level of winning in these wildly uncertain times.

In "The Leader Who Had No Title, "you will learn:

- How to work with and influence people like a superstar, regardless of your position

- A method to recognize and then seize opportunities in times of deep change

- The real secrets of intense innovation

- An instant strategy to build a great team and become a "merchant of wow" with your customers

- Hard-hitting tactics to become mentally strong and physically tough enough to lead your field

- Real-world ways to defeat stress, build an unbeatable mind-set, unleash energy, and balance your personal life

Regardless of what you do within your organization and the current circumstances of your life, the single most important fact is that you have the power to show leadership. Wherever you are in your career or life, you should always play to your peak abilities. This book shows you how to claim that staggering power, as well as transform your life--and the world around you--in the process.