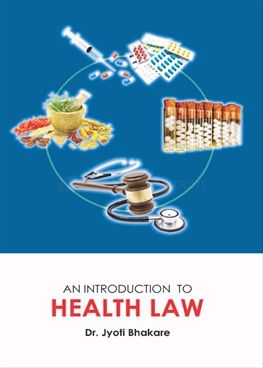 An Introduction To Health Law
An Introduction To Health Law
Authors:
Dr. Jyoti Bhakare

Publication:
Jyoti Bhakare

Pages: 378
Weight: 586 Gm
Binding: Paperback
ISBN13: 9789352125104
Hard Copy Price:
25% OFF
R 500
R 375
/ $ 5.36
Shipping charges will be applicable for this book.
For International orders shipment charges at actual.
Buy Print Book
eBook Price: 10% OFF R 500 R 450 / $ 6.43
Standard delivery in 2-3 business days | Faster Delivery may be available
Preview
Summary of the Book
Health low encompasses the central, and local lows, rules and regulations that regulate various stakeholders of health care sector while it aims to promaote health. The increasing role of legal interventions into the healthcare services has required the doctors to be more and more aware about their duties towards the patients, state and the society as well. Post IMAv.VP.Shantha, there has been a plethora of cases against the medical professionals for medical negligence under Consumer Protection Act. The doctors can not afford to remain legally illiterate in the changing scenario. Right from the moment of registering for the practice by establishing clinic or a hospital, they need to comply with so many laws. The changing patients' culture and the legal challenges before the healthcare sector make it imperative to acquire knowledge in this area. This book tries to fulfill this need.