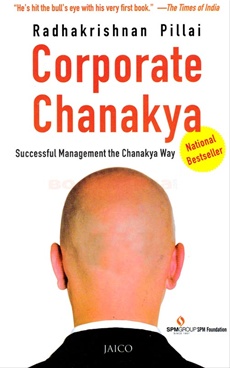 Corporate Chanakya Successful Management The Chanakya Way
Author:
Radhakrishnan Pillai

Publication:
Jaico Books

Pages: 340
Weight: 310 Gm
Binding: Paperback
ISBN13: 9788184951332
Hard Copy Price:
15% OFF
R 325
R 276
/ $ 3.54
Shipping charges will be applicable for this book.
For International orders shipment charges at actual.
Buy Print Book
Standard delivery in 2-3 business days | Faster Delivery may be available
Preview
Summary of the Book
Chanakya, who lived in 3rd Century BC, was a leadership guru par excellence. His ideas on how to identify leaders and groom them to govern a country has been well documented in his book Kautilya's Arthashastra. This book contains 6000 aphorisms or sutras. In the present book the author simplifies the age-old formula of success for leaders of the corporate world. Divided into 3 sections of Leadership, Management and Training Corporate Chanakya includes tips on various topics like – organizing and conducting effective meetings, dealing with tricky situations, managing time, decision making and responsibilities and powers of a leader. Call it your guide for corporate success or a book that brings back ancient Indian management wisdom in a modern format – you just cannot let go the Chanakya wisdom contained on each page. Read on to discover the 'Corporate Chanakya' in you…

About the Author - Radhakrishnan Pillai studied the ancient text "Kautilya's Arthashastra" at Chinmaya International Foundation, Kerala, under the guidance of Dr. Gangadharan Nair. Educated in the field of management and consultancy, he later proceeded to do his MA in Sanskrit and obtained a doctorate degree in the Arthashastra. He also started a company Atma Darshan in the field of spiritual tourism. Pillai spreads the knowledge of Chanakya to millions of people across the globe through his lectures, workshops, training programs, radio shows and articles. Director of SPM Foundation and part of University of Mumbai team, he designs various leadership programs. He is the recipient of the Sardar Patel International Award, 2009.