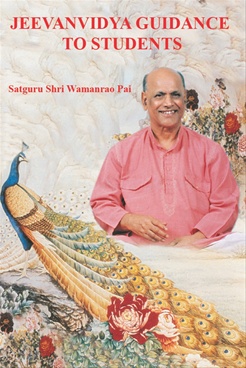 Jeevanvidya Guidance To Students
Authors:
Wamanrao Pai

Publication:
Jeevanvidya Foundation

Pages: 95
Weight: 69 Gm
Binding: Paperback
Hard Copy Price:
25% OFF
R 20
R 15
/ $ 0.21
Shipping charges will be applicable for this book.
For International orders shipment charges at actual.
Buy Print Book
eBook Price: 20% OFF R 20 R 16 / $ 1.00
Standard delivery in 2-3 business days | Faster Delivery may be available
Preview
Akshata Chougule
07 Jan 2020 05 30 AM
I firstly thanks Bookganga.. for making this book available to the readers. Students Usually have many questions for ex.How to study? How many hours should we study? Should we go for tutions? Should we have aim in life? Why exams r important? How will i Go at the top and achiev my aims.. all such questions r answerd. in an QUESTION ANSWER PATTERN in this book.. so for any of ur such doubts.. Pls do purchase.. Thanks u satguru n jeevanvidya mission for publishing such books.. to inspire n shape the young blood of nation🙏☺
Ajinkya Anerao
28/06/2020
Essential for Students, Teachers & Parents. All questions are answered in easy language along with logical reasoning.