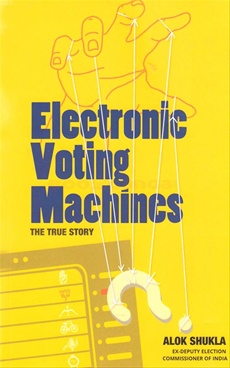 Electronic Voting Machines
Author:
Alok Shukla

Publication:
Leadstart Publishing

Pages: 197
Binding: Paperback
ISBN13: 9789352011193
Hard Copy Price:
25% OFF
R 199
R 149
/ $ 2.13
Shipping charges will be applicable for this book.
For International orders shipment charges at actual.
Buy Print Book
Standard delivery in 2-3 business days | Faster Delivery may be available
Preview
Summary of the Book
Based on hard fact, substantiated record, and the direct narratives of those involved in the developmental process of EVMs, this one-of -a-kind book answers all our nagging questions with clarity and logic. It also traces how political parties shitted their stance on EVMs as their electoral fortunes changed. Most usefully, it provides lay persons with authentic yet simple technical explanations about how EVMs work.