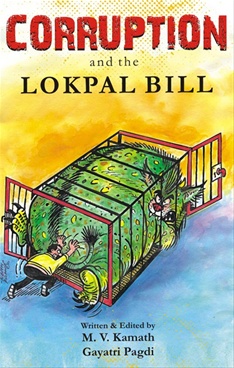 Corruption And The Lokpal Bill
Authors:
Gayatri Pagdi

,
M. V. Kamath

Publication:
Indus Source Books

Pages: 325
Weight: 364 Gm
Binding: Paperback
ISBN13: 9788188569380
Hard Copy Price:
25% OFF
R 299
R 224
/ $ 3.20
Shipping charges will be applicable for this book.
For International orders shipment charges at actual.
Buy Print Book
Standard delivery in 2-3 business days | Faster Delivery may be available
Preview
Summary of the Book
In recent times there has been outrage at the brazen corruption, impunity and economic imbalance in our society. It has been marked by an expression of public anger against those in power. The Lokpal movement has seen, for the first time, India's people on the streets, in the courts, and inside the Parliament, working on an issue that aims to make India a better place. The middle classes, so far fairly silent on the episodes of corruption, have become more outspoken. If corruption has to be tackled effectively, a lot depends on the pressure that the people are able to bring to bear on the political class.

This book takes a look at corruption from the times of Kautilya and traces its history in our times. It assesses the journey of a measure intended to fight corruption and what happens to it in the power play of politics. Which way will this go? The Lokpal movement is just the beginning. Are we, as responsible citizens, fully aware of what the struggle against corruption involves? The outcome of this struggle concerns us all. Are we doing enough to cage the monster of corruption? Or will we let it continue to overwhelm us with its sheer size and brutal presence?