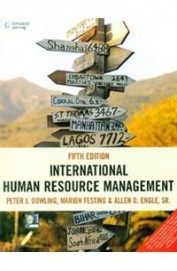 International Human Resource Management Edition - 5
Managingpeople In A Multinational Context
Publication:
Cengage Learning India Pvt Ltd

Pages: 384
Weight: 382 Gm
Binding: Paperback
ISBN10: 8131516482
ISBN13: 9788131516485
Hard Copy Price:
10% OFF
R 425
R 382
/ $ 5.46
Shipping charges will be applicable for this book.
For International orders shipment charges at actual.
Buy Print Book
Standard delivery in 2-3 business days | Faster Delivery may be available
Summary of the Book
International Human Resource Management is a new edition of this market-leading text. Two new authors, Marion Festing and Allen Engle, make this new edition even more international than its predecessors. Changes include more coverage of small & medium enterprises, new material on managing diversity and cross-cultural workforces, new material on off-shoring, particularly to India or China, and a new chapter on sustaining global growth and linking the international HR function more firmly to companys' strategic growth plans. In addition the new edition includes a wealth of case study material and class discussion material. A full instructor's website is available to adopters.