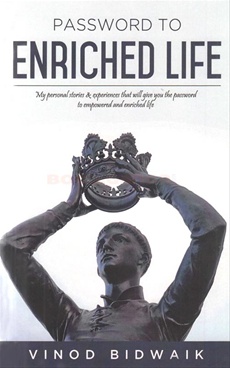 Password To Enriched Life
Authors:
Vinod Bidwaik

Publication:
Bohosoul Publications

Pages: 126
Binding: Paperback
ISBN13: 9781618135407
Hard Copy Price:
25% OFF
R 225
R 168
/ $ 2.40
Shipping charges will be applicable for this book.
For International orders shipment charges at actual.
Buy Print Book
Standard delivery in 2-3 business days | Faster Delivery may be available
Preview
Summary of the Book
Vinod Bidwaik is a seasoned HR professional with more than 18 years of experience in HR with 11 years of leadrship experience in big Indian and Multinational industries, viz manufacturing, media, automobile and life science & material science companies.
He is the recipient of the prestigious Asia Pacific HRM Leadership Award 2014 given at Asia Pacific HRM Congress held at Bangalore and "Vibrant Gaurav Puraskar 2016" given by Vibrant Group, association of HR professional.
At present, he is working with European MNC, DSM India as Director-HR. He previously worked with Mahindra & Mahindra at their engine plant as the head HR & IR, Semperit Group as a plant HR head and Sakaal Media Group as a Chief Manager - Corporate HR.
He writes regularly in management journals and magazines. He is also a life member of Bombay Management Association, National Institute of Personnel Mannagement and National HRD Network. He speaks on different forums and regularly writes column in different English and Marathi dailies.
He has pen down bestseller Marathi book, "College to Corporate, via interviews" (ISBN: 978-93-5258-142-9) published by Boho Soul Publications.