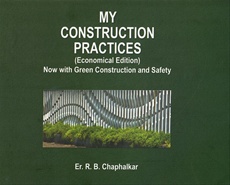 My Construction Practices (Economical Edition)
Now with Green Construction and Safety
Author:
R. B. Chaphalkar

Publication:
Sakal Prakashan

Pages: 256
Weight: 1062 Gm
Binding: Hard Cover
ISBN13: 9789380571836
Hard Copy Price:
25% OFF
R 399
R 299
/ $ 4.27
Shipping charges will be applicable for this book.
For International orders shipment charges at actual.
Buy Print Book
Standard delivery in 2-3 business days | Faster Delivery may be available
Preview
Summary of the Book
Good construction practices for fresh engineers in instructional format. Fresh engineers struggle on own to understand good construction practices, the author has made an effort to bridge this gap between college education and construction practices. The focus of this book is on process of construction, from concept to completion, which guarantees consistent quality of the construction. The documentation part in this books will be highly useful to entrants in construction field and also to the people building their homes. The book gives minute details on every aspect of construction, evolved through tried and tested techniques. One can look forward to refer to the book to optimize on the quality and cost of construction. The reader, by going through this book will become aware, that the responsibility of quality in construction lies with the Civil Engineers / Contractors and they are capable of producing measurable quality with supporting documentation. The Author's effort is is to share his experience of entire construction process using these good practices, in which he takes immense pride.