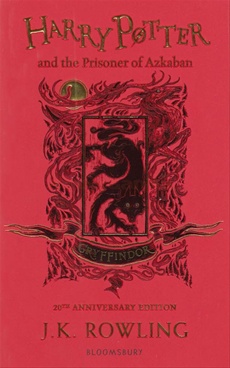 Harry Potter And The Prisoner Of Azkaban Gryffindor Edition
Authors:
J. K. Rowling

Publication:
Bloomsbury

Pages: 465
Weight: 383 Gm
Binding: Paperback
ISBN13: 9781526606174
Hard Copy Price:
25% OFF
R 499
R 374
/ $ 5.34
Shipping charges will be applicable for this book.
For International orders shipment charges at actual.
Buy Print Book
Standard delivery in 2-3 business days | Faster Delivery may be available
Preview
Summary of the Book
Published to mark the 20th anniversary of first publication of Harry Potter and the Prisoner of Azkaban, this Gryffindor edition celebrates the Hogwarts house famed for its courage, bravery and determination.
Harry's third year at Hogwarts sees more great Gryffindor moments and characters - including Harry's mastery of that most advanced of charms, the Patronus-not to mention four of the most memorable alumni, Messrs Moony, Wormtail, Padfoot and Prongs!
With exciting house-themed features and stunning line illustrations by Levi Pinfold, winner of the Kate Greenaway Medal.