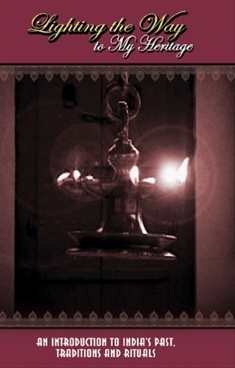 Lighting the Way to My Heritage
Authors:
Padma Shandas

,
Ravi Gaonkar

Publication:
Rutu Enterprises Ltd.

Pages: 209
Weight: 390 Gm
Binding: Paperback
Hard Copy Price:
25% OFF
R 750
R 562
/ $ 19.00
Shipping charges will be applicable for this book.
For International orders shipment charges at actual.
Buy Print Book
eBook Price: 63% OFF R 750 R 275 / $ 10.00
Standard delivery in 2-3 business days | Faster Delivery may be available
Preview
Summary of the Book
Starting from a definition of "What is Heritage" the book provides glimpses of India's long History, Philosophy and Religions. The book also provides an overview of the Dynasties that flourished on this soil and India's contributions to the world in Mathematics, Medicine, Literature, Music and Performing Arts. The book discusses the salient aspects of the Hindu Dharma, also called Sanaatana Dharma, and provides brief biographies of notable personalities who have left an indelible mark on what India is today.
Great Intro to Indian culture. The DVD is just superb!