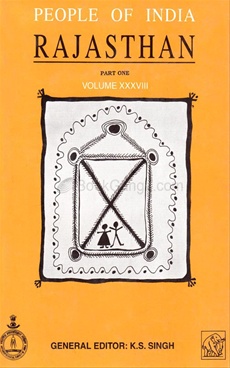 People Of India : Rajasthan
(Part I, Parat II)
Publication:
Popular Prakashan

Pages: 1056
Weight: 1695 Gm
Binding: Hard Cover
ISBN10: 8171547664
Hard Copy Price:
25% OFF
R 800
R 600
/ $ 8.57
Shipping charges will be applicable for this book.
For International orders shipment charges at actual.
Buy Print Book
Standard delivery in 2-3 business days | Faster Delivery may be available
Preview
Summary of the Book
Territorial identity of Rajasthan dates back to 7th century A.D. It gave way to that of Rajputana, romanticised by colonial administrators and ethnographers. After independence the old historical notion of Rajasthan was revived in its present day extended form. Rajasthan, bioculturally is part of the north-western region of the country. Like other ethno-cultural regions, Rajasthan has its own cluster of communities.

A stable region, its history, ecology and culture explain the features that relatively stand out: a greater ecological diversity (Rajasthan is the most colourful state in the country), linguistic and social heterogenity (with more extensive network of clans), an old bardic tradition, a larger proportion of vegetarianism, a higher incidence of junior levirate, extensive prevalance of patrilineal norms and so on. Still a traditional and backward society, the development process at work has been relatively slow.

A home of droughts and famines, Rajasthan has witnessed the depletion of natural resources and degradation of environment on a scale that is a cause for alarm. And yet there are signs of hope in increased social mobility and the movement towards growth and political equality.