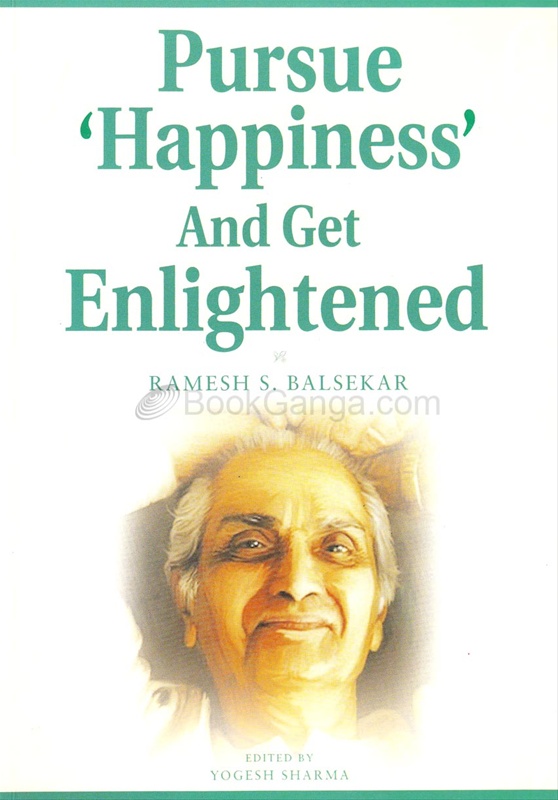 Pursue 'Happiness' And Get Enlightened (Hardback)
Author:
Ramesh S. Balsekar

Publication:
Zen Publications

Pages: 252
Binding: Hard Cover
ISBN13: 9788188071470
Hard Copy Price:
25% OFF
R 400
R 300
/ $ 4.29
Shipping charges will be applicable for this book.
For International orders shipment charges at actual.
Buy Print Book
Standard delivery in 2-3 business days | Faster Delivery may be available
Preview
Summary of the Book
You think the proposition is preposterous, don't you? You have always believed that enlightenment would get you lasting happiness, even bliss. In fact, you have believed that a prerequisite for "getting" Enlightenment was shunning happiness, maybe even embracing pain. If that is so, welcome to a refreshingly new understanding. What Pursue Happiness And Get Enlightened does is to turn the whole subject of enlightenment or self-realization on its head. Ramesh Balsekar, articulate sage, leading teacher of Advaita Vedanta and author of over 30 well-known books, leads you step by interesting step to the understanding of the intimate relationship between Happiness and Enlightenment. He makes it clear that although uncertainty is the basis of daily living ? no one can know whether the next moment will bring pleasure or pain ? total free will to do whatever one feels like doing in any situation is as much our birthright as the ultimate happiness in life. The key is to understand what true happiness is. Ever since the newborn baby intuitively seeks its mother's breast, the whole purpose of life is to seek happiness, not enlightenment because enlightenment has never been a certified event. Pursue Happiness And Get Enlightened speaks with authority because it is not based on hearsay but personal experience endowed by God's Grace. Traditional seekers, crystallised into set concepts, may not find it easy to accept this book, but followers of true masters like Ramana Maharshi will welcome its wisdom like manna from heaven.