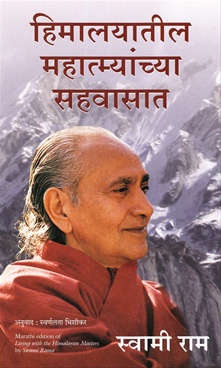 हिमालयातील महात्म्यांच्या सहवासात
LIVING WITH THE HIMALAYAN MASTERS (Marathi)
Authors:
स्वामी राम

Translators:
स्वर्णलता भिशीकर

Publication:
मंजुल पब्लिशिंग हाउस

Pages: 404
Weight: 357 Gm
Binding: Paperback
ISBN13: 9788183222716
Hard Copy Price:
10% OFF
R 350
R 315 / $ 6.00
FREE Delivery in Maharashtra on orders over ₹499.00
For International orders shipment charges at actual.
Buy Book
Standard delivery in 2-3 business days | Faster Delivery may be available
Preview
Summary of the Book
In Living With The Himalayan Masters, Swami Rama recounts his experiences from his spiritual journey to seek truth. He writes in detail about the sacred teachings that he received from several great sages. This book documents Swami Rama's spiritual quest, which showed him that direct experience is the source of real knowledge.
SAGAR SHIVAJI TOCHE
20/01/2015
I Like That.
Great of Great Book!!!!!!!!!!
Chandrashekhar H Murudkar
23/01/2013
Very interesting and inspirational book for Sadhak.