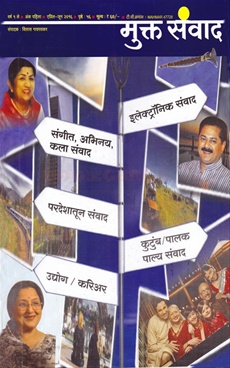 मुक्त संवाद एप्रिल - जून २०१६
Author:
विलास गावरसकर

Publication:
विलास गाव्ररसकर

Pages: 56
Weight: 60 Gm
Binding: Paperback
Hard Copy Price:
25% OFF
R 60
R 45
/ $ 0.64
Shipping charges will be applicable for this book.
For International orders shipment charges at actual.
Buy Print Book
Standard delivery in 2-3 business days | Faster Delivery may be available
Sangram Kulkarni
16/12/2016
I like Mukt Samvad. The basic idea behind Mukt Samvad is good. It would be better if few typing / printing mistakes have avoided. I felt happy to see articles on not only on famous / well known personalities but also youngsters and less famous persons also. I wish good luck for future attempts.
Kundbala Damle
13/07/2016
I liked interview of Ranjana Joglekar, article written on Muley kaka, stories like Hello hello boltay kon..really very nice..Creative and appealing writing. Best luck.
Variety of articles. Highly motivating for youngsters and loveable to mature readers.Waiting for next issue..