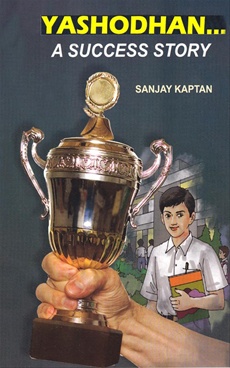 Yashodhan A Success Story
Authors:
Dr. Sanjay Kaptan

Publication:
Sunidhi Publishers

Pages: 63
Weight: 100 Gm
Binding: Paperback
ISBN13: 9788192737553
Hard Copy Price:
25% OFF
R 100
R 75
/ $ 1.07
Shipping charges will be applicable for this book.
For International orders shipment charges at actual.
Standard delivery in 2-3 business days | Faster Delivery may be available
Preview
Summary of the Book
Childhood!
It is enveloped in love of near and dear ones like parents, grandparents and other relatives.
Friends, mates, teachers and school complete the circle.
Childhood gives freedom to play, have fun and frolic. That period is to be enjoyed again and again.
As a person ages, each individual turns into an 'island'. These days this ageing process is advanced by many folds.
'Childhood' is a stage in everyone's life, which should be treasured and cherished for the rest of our lives. Hence this book is a must read for all- be the parents or their wards.
These stories are not only of Yashodhan, but they happen in everyone's life.
This book guides and nourishes childhood.