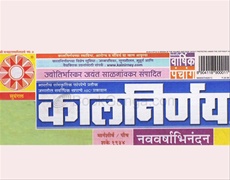 कालनिर्णय दिनदर्शिका (२०१३)
Publication:
कालनिर्णय सांस्कृतिक प्रकाशन

Pages: 12
Weight: 90 Gm
Binding: Paperback
Hard Copy Price:
12% OFF
R 24
R 21
/ $ 0.30
Shipping charges will be applicable for this book.
For International orders shipment charges at actual.
Buy Print Book
Standard delivery in 2-3 business days | Faster Delivery may be available
shubhali dengale
01 Sep 2013 05 30 AM
i am from india last 5 to 6 moth i am stay in malaysia with my family,my mobile is download for kalnirnay so what sms type & get to kalnirnay............help me plz.....