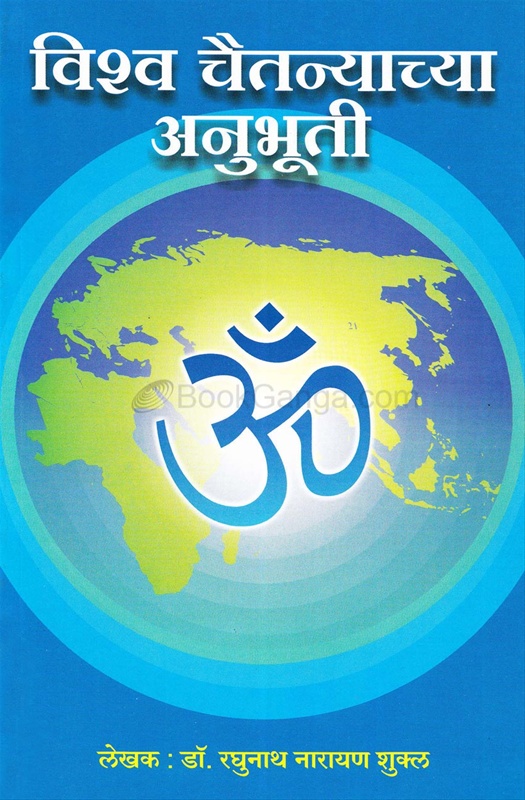 विश्व चैतन्याच्या अनुभूती
Author:
डॉ. रघुनाथ नारायण शुक्ल

Publication:
स्वानंद ट्रेडर्स

Pages: 136
Weight: 163 Gm
Binding: Paperback
Hard Copy Price:
10% OFF
R 150
R 135
/ $ 1.73
Shipping charges will be applicable for this book.
For International orders shipment charges at actual.
Buy Print Book
Standard delivery in 2-3 business days | Faster Delivery may be available
Summary of the Book
आयुष्यातिक काही आध्यात्मिक घटनांची वैज्ञानिकदृष्ट्या संगती लावण्याचा प्रयत्न डॉ. आर. एन. शुक्ल यांनी या पुस्तकातून केला आहे. आजच्या पिढीला अध्यात्मकमार्ग असलेला वैज्ञानिक अर्थ समजावून दिला, तर त्यांचा विश्वास वाढीस लागेल, हाही त्यामागचा उद्देश आहे योगेश्वर चांगदेव यांच्यापासून या लेखनाची सुरवात होते.

कुरुक्षेत्रावरील गीतोपदेश, आळंदीचे बोलणारे वृक्ष, जळगावच्या वेटिंगरूममध्ये भेटलेले महायोगी, शिवलिंगाचे चैतन्य विज्ञान अशा लेखांच्या नावांवरूनच विषय समजतात. हवेत तरंगणारी मुले, हठयोग प्रयोग, ज्ञानेश्वरमहाराजांच्या समाधीवरील संकट, सत्यसाईबाबांचा दिव्य अनुभव, गाडेबाबाच्या गोडाचे रहस्य अशा काहीशा गूढ वाटणाऱ्या विषयांमागचे शास्त्र त्यांनी सांगितले आहे.
Dr Rahul Somalwar
07 Jul 2022 05 30 AM
Really a very nice book, everybody who are interested to understand the science in Adhyamta . I read this book 8 years back and now again I read it. I meet with the author at Akola. He is very humble and explain the things by giving simple real life examples. Youth must read this book to understand the science.Must read
radhika sawant
17/02/2022
Khup sunder book aahe,khup chan lihile aahe ,pustak vachtana sarkhe ase vatate ki hya vyaktina ekda tari bhetave.
Namaskar ! I feel blessed, to have this book find its way to me, without me knowing or wishing for it. This book gives facts witnessed by the writer. He was the head of the renowned scientific institute in India, largest of its kind, makes me believe it(in today's world, full of unexpected). It is without any judgement, explaining only the facts throughout his life so far. I think if your Atma has some sanskars of Adhyatma, it will definitely appil you. Its small & simple. Read it, I believe, you will feel blessed & prompt you to do some Punyakarma. I have a strong desire to meet its writer, if allowed & hope it will be made to happen. I strongly urge you, please read it; its simple, easy to understand & profound. It will prompt you to do some Punya Karma. Parmeshwar applyas sad buddhi dewo.