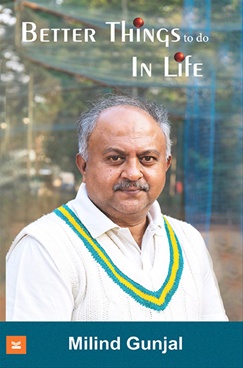 Better Things to do In Life
Author:
Milind Gunjal

Publication:
BookGanga Publications

Pages: 250
Weight: 270 Gm
Binding: Paperback
ISBN13: 9788195257584
Hard Copy Price:
25% OFF
R 499
R 374
/ $ 4.79
Shipping charges will be applicable for this book.
For International orders shipment charges at actual.
Buy Print Book
eBook Price: 30% OFF R 499 R 350 / $ 4.49
Standard delivery in 2-3 business days | Faster Delivery may be available
Preview
Summary of the Book
I had the privilege of reading the manuscript of Milind Gunjal's "Better Things to do In Life."
I was struck by the grit & determination of a middle-class Pune family to ensure that Milind blossoms into a renowned cricketer. The book traces the efforts of Milind's father to spare no effort in developing his son's talent & capabilities of becoming a renowned cricketer. The book also traces the determination of Milind to overcome all odds in realizing his objective of becoming a superb batsman, culminating in his becoming the Captain of the Maharashtra Ranji Trophy team & earning laurels for Maharashtra. Not resting on his laurels, Milind on his retirement from cricket, concentrates his efforts on coaching youngsters to become cricketers.
The other aspect of the book delves on Milind's foray into the corporate world & leaving his imprint in the Tata organization. Here also, he prompts corporates to encourage their employees to participate in sports.
The book is not only a treat for cricket aficionados but also an inspiration for our youth to pursue their dreams with determination & devotion. A must-read book.

Jamshed Khursigara
Ex HR Head - Tata Motors
mukta03
07 May 2021 05 30 AM
This is well written simple narrative of Milind"s both the innings When he played and when he helped others to play. He is modest about his achievements and grateful for all the people who made difference in his life. This is a great read .
Nakul Rege
04 Jun 2021 05 30 AM
Very inspiring account of how hard work, determination and application can conquer most obstacles to lead a complete life. Milind can look back with pride at the manner in which he played cricket with the best in the world, had a long professional work career with a well respected multinational company which enabled him to care for his family and he also contributed back to society thru his academy and support of athletes in other sports. The book is well written and makes for easy reading. Definitely encourage others to buy this book, experience his life story. and incorporate his positive attitude despite setbacks in their own lives