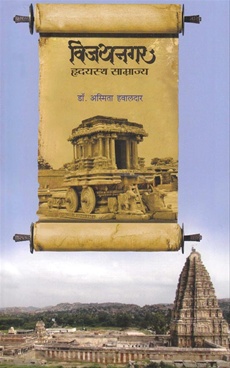 विजयनगर हृदयस्थ साम्राज्य
Authors:
अस्मिता हवालदार

Publication:
कॉन्टिनेन्टल प्रकाशन

Pages: 199
Weight: 226 Gm
Binding: Paperback
ISBN13: 9789387678217
Hard Copy Price:
10% OFF
R 250
R 225
/ $ 3.21
Shipping charges will be applicable for this book.
For International orders shipment charges at actual.
Buy Print Book
Standard delivery in 2-3 business days | Faster Delivery may be available
A travel through time into magnificence of Vijaynagar Kingdom . A must read book to know our past glory and achievements. Hampi, now declared a world heritage, was epitome of Indian architecture. Great effort by Author Dr Ashmita Havaldar to provide us well researched information about a splendid era of Indian history we are not much aware of.
anil bhosekar
06 Dec 2019 05 30 AM
Very nice book. It shows the efforts taken by Author Asmita Havaldar and is really an eye opener as we are not much aware of the history about the samrajya beyond Krishnadevray. While reading the book, one gets a feeling that the author is talking to you. Very studious and well narrated book that contains a lot of information on history and culture of those days. A must in your collection.