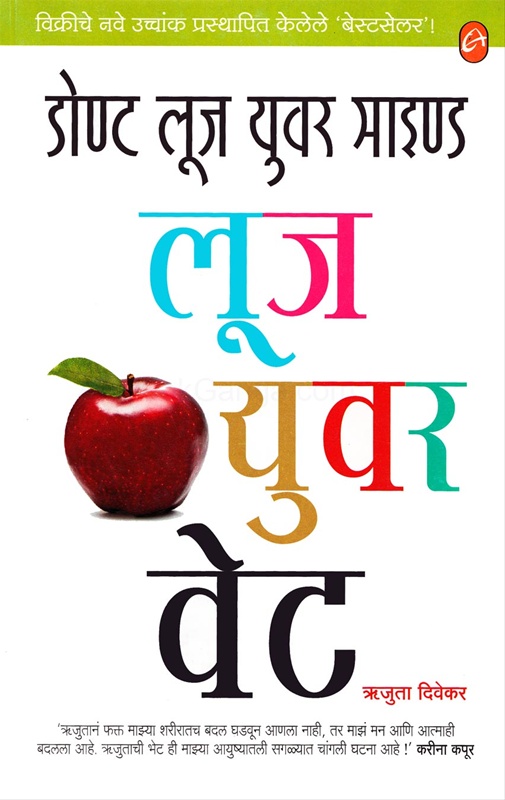 डोण्ट लूज युवर माइण्ड लूज युवर वेट
Author:
ऋजुता दिवेकर

Translators:
उज्ज्वला बर्वे

Publication:
अमेय प्रकाशन

Pages: 204
Weight: 220 Gm
Binding: Paperback
Hard Copy Price:
10% OFF
R 199
R 179
/ $ 2.97
Shipping charges will be applicable for this book.
For International orders shipment charges at actual.
Buy Print Book
Standard delivery in 2-3 business days | Faster Delivery may be available
Preview
Summary of the Book
या पुस्तकानं देशात धमाल उडवून दिली आहे. भारताची प्रख्यात क्रीडाशास्त्र आणि आहारतज्ञ तसचं करीना कपूरच्या फिट, कमनीय देहाची 'शिल्पकार' ऋजुता दिवेकरचं डाएटवरचं हे पहिलं पुस्तक – सामोसा, कबाब आणि गुलाबजामचा त्याग न करतासुद्धा वजन कसं कमी करावं हे शिकवणारं. बस्, योग्य पधतीनं खाण्याची चतु:सूत्री अंगी बाणवायची. त्यानंतर सगळं काही खायचं, पण तरीही वजन उतरवायचं. नेमकं काय करायचं याबाबत मार्गदर्शन, आणि खूप वेगळा विचार देणारं, हलक्या फुलक्या प्रसंगांच्या कथनातून विषय स्पष्ट करणारं 'डोण्ट लूज युवर माइण्ड, लूज युवर वेट' हे पुस्तक अजिबात उपासमार होऊ ण देता डाएट कसं करायचं ते सांगतं.
Rashami Sarode
03 Jul 2018 05 30 AM
खूप छान, माहितीपूर्ण पुस्तक. या पुस्तकाचे वैशिष्ट्य असे की यात ऋजुताने फक्त वजन कमी करण्यावर भर दिलेला नसून आरोग्यदायी गोष्टींबद्दल सुद्धा छान माहिती दिलेली आहे. कॅलरी चार्ट, हाय प्रोटीन डाएट, डेटोक्स डाएट, असले भयंकर आणि आरोग्य खराब करणारे प्रकार या पुस्तकात नाहीत. आरोग्य आणि वजन याचा समतोल लस राखता येईल हाच या पुस्तकाचा मूळ उद्देश आहे.
Renuka Chafaner
20/05/2017
He Khup chaan pustak aahe agadi sangrahi thevanyasarakhe. Me swata punha punha he pustak vachate aani mazya baryach friends na jyana diet fad aahe tyanna gift pan karte. Diet & fitness vishayi je foriegn myth aahe te Rijuta ne hya pustakatun clear kela aahe. Ekda he pustak nakki vacha, tumha swatala ch diet vishayi basic funde clear hotil...Aani kahi bavlat lok je fakta diet plan fukat miltoy ka he vachanyasathi he pustak ughadnar aahet, tyanni plz vachu naye, tumache khulchat diet chalu thevavet
Gauri Salvi
03 Sep 2017 05 30 AM
Not good .Plz Don't read this book. बुक मध्ये फक्त बाकीच्यांचे अनुभव दिले आहेत.
Kamini Rane
03 Sep 2017 05 30 AM
ya book chi fakta kareena kapur chya navane TRP keli ahe baki weight loss karnyasathi ya book madhe kahi mahiti nahi. very bad impression....!
Sheela Prakash Shilwant
25/12/2012
I want loose your weight book
kalyani sadavarte
29/07/2011
must read!!!!!!!
SHEKHAR KULKARNI
01 Feb 2011 05 30 AM
हे पुस्तक खूपच चांगले आहे त्यामुळे वजन घटवणे शक्य झाले आहे. पुस्तक संग्रही ठेवण्या योग्य आहे.
मीनल sardeshpande
16/12/2010
चांगले पुस्तक जे आपल्या आरोग्याची उत्तम काळजी घेण्याचा सल्ला देते.