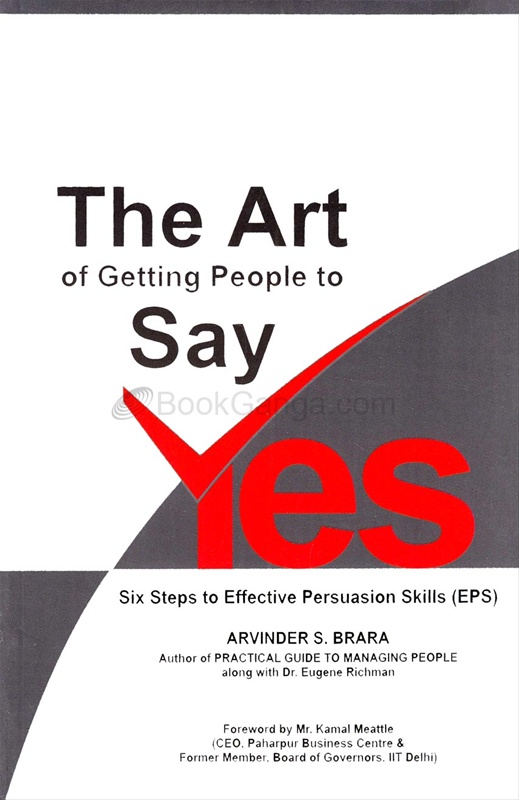 The Art of Getting People to Say YES
Six Steps to Effective Persuasion Skills (EPS)
Authors:
Arvinder S. Brara

Publication:
Wisdom Village Publications

Pages: 126
Binding: Paperback
Hard Copy Price:
25% OFF
R 200
R 150
/ $ 2.14
Shipping charges will be applicable for this book.
For International orders shipment charges at actual.
Buy Print Book
Standard delivery in 2-3 business days | Faster Delivery may be available
Preview
Summary of the Book
"Yes! Finally, a guide book to help you get an affirmative response wherever you go. Presented in a brisk and easy to understand style, this book is complete with examples to help you develop Effective Persuasion Skills (EPS).

Whether you are a student, a parent, a management executive or a salesperson – The only qualification required to learn EPS is a real desire to do so. It is a simple yet very powerful body of knowledge that can help bring greater achievements, happiness and understanding in your day to day living. These skills will enable the reader and help improve effectiveness in both personal and professional life.

It is a unique and new approach to self-development. One that will get an exhilarating Yes from one and all!
ARVINDER S BRARA is an international management consultant with a wide experience of over 30 years with renowned corporations in different parts of the world. His first book Practical guide to Managing People was co-authored with Dr Eugene Richman and published by a subsidiary of Prentice Hall, New York. And now he shares with one and all, his secret - The Art of Getting People to Say YES! "