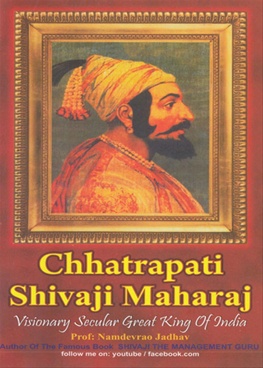 Chhatrapati Shivaji Maharaj (English)
Visionary Secular Great King Of India
Author:
Prof. Namdevrao Jadhav

Translators:
Sudhir Tare

Publication:
Rajmata Prakashan

Pages: 216
Weight: 209 Gm
Binding: Paperback
Hard Copy Price:
25% OFF
R 250
R 187
/ $ 2.67
Shipping charges will be applicable for this book.
For International orders shipment charges at actual.
Buy Print Book
eBook Price: 28% OFF R 250 R 180 / $ 2.57
Standard delivery in 2-3 business days | Faster Delivery may be available
Preview
Summary of the Book
Ahilya-Ratna Puraskar Awardee
एका पेक्षा कमी स्टार देणे शक्य नाही म्हणून एक स्टार देतो आहे. खरा इतिहास सांगण्याचा आव आणून संपूर्णपणे विषारी जातीयवादी दृष्टीकोनातून लिहीलेले हे पुस्तक आहे. ब्राह्मणद्वेषाने पछाडलेल्या प्रोफेसर महाशयांना याचेही भान नाही की यात त्यांचा काडीचाही अभ्यास नाही. ते चक्क निर्लज्ज कबूली देतात तशी पुस्तकाच्या सुरवातीलाच. अशी पुस्तके बुकगंगा सारख्या साइटवर कशी ठेवली जातात कोण जाणे.
aussssssssssssssssssssssssssssssssom book please read this