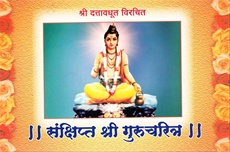 || संक्षिप्त श्री गुरुचरित्र ||
Author:
स्वामी दत्तावधूत

Publication:
वनिता बुक्स

Pages: 64
Weight: 130 Gm
Binding: Paperback
Hard Copy Price:
R 50
/ $ 0.71
Shipping charges will be applicable for this book.
For International orders shipment charges at actual.
Buy Print Book
Standard delivery in 2-3 business days | Faster Delivery may be available
Jayshree Kale
12 Feb 2021 05 30 AM
खालील नंबर वर संपर्क करून संक्षिप्त श्री गुरुचरित्र बोलावता येईल. +919822196049
Shrutika Mahadik
12 Jun 2020 05 30 AM
How to purchase.. pls give no of vanita book depo
Shamal Lotankar
09 Jul 2017 05 30 AM
Mala hya granthachya 10 copies havya ahet pan kuthech milat nahi. Krupaya mala sanga dadar kiva online madhe Mala hya kashya miltil
Where I can buy this book? Anywhere in Hyderabad?
TUSHAR JAMDADE
05 Jun 2016 05 30 AM
Please call no on the book office in Mumbai for details on 022 24187339
I want to purchase this book. Please guide me.
JUILEE MANISH PARAB
17/03/2015
nice book
anuradha kulkarni
03 Apr 2015 05 30 AM
ha granth phar prabhavi ahe dattagurunchi krupa hote maza anubhav phar chan ahe sarvani ha granth vachant jarur thevava
DEEPAK SHEWALE
01 Dec 2015 05 30 AM
JAY SADGURU GURU CHARITR VAACHLYANE SAD GATICHA MARG MILTO
vinayak patil
01 Jul 2015 05 30 AM
SHREE GURUDEV DATTA..... sarvani vachave ekda .
Nandkishor Jilhedar
11 Nov 2014 05 30 AM
Awesome
Reema
08 Nov 2014 05 30 AM
Can we read thise book after having garlic n onion
HINGMIRE SUNIL ARUUN
26/06/2014
Plz Send This Sanshipat shri gurucharitra
PRADIP KULKARNI
18/02/2014
Language is very lucid and person who can read marathi can easily read this book without any difficulty
Ranjan
02 Jul 2014 05 30 AM
Since the experience is too personal, I am disclosing it here but I have tremendous boost in my life since I started reading the pothi everyday since last 14 months. To do with my nature, habits and the most important peace of mind. A must read for anyone and everyone.
chetan deshmukh
19/11/2013
om swami smartha,this book is a very easy way to knowing the guru, but i think the real way to knowing guru is swanubhva , to thanks all of us to write & publish this book.
Ashwini Pandit
15/07/2013
Khup Chan pustak aahe. Kharokhaich khup manashanti milte. Swami Dattavadhutanche khup khup aabhar.Sarvani manobhave jarur vachave.
विभव Ambardekar
05 Oct 2011 05 30 AM
अतिशय दिव्य पोथी.संपूर्ण गुरुचरित्र वाचनाचे पुण्य प्राप्त होईल असे यात सांगितले आहे.मानसिक समाधान milte
prachi
03 Jul 2011 05 30 AM
महिला सुधा वाचून आपला उद्धार करू शकतात, स्वामी तुम्हाला शतशः प्रणाम
Jitendra Patil
15/12/2010
aabhar mananyas shabda apure padatat....