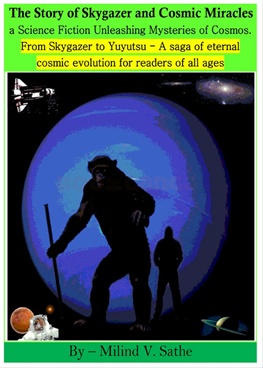 The Story of Skygazer and Cosmic Miracles
Authors:
Milind Sathe

Publication:
BookGanga Prakashan

Pages: 345
Binding: Paperback
eBook Price: R 150 / $ 2.14
Standard delivery in 2-3 business days | Faster Delivery may be available
Preview
Dr Kurani Shashikant
09 May 2020 05 30 AM
I have come across many books articles and published paper I can surely say what MILIND is wring should be shown to younger groups who can have such imagination and thereby getting lateral knowledge Same is missing for growing youngsters
The world we live in is a work in progress. We have come a long way from our primeval origins, and there is still much more to go. A Great Cosmic Sculptor is shaping the world into the ultimate work of art, and we cannot judge the final product from its early stages. This is the great value of this book. It brings to bear a new perspective on the creation of mankind. One must read this book.