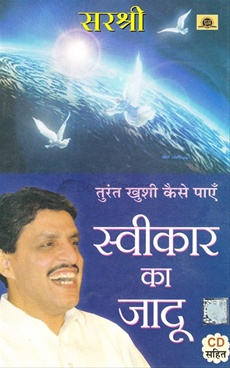 स्वीकार का जादू तुरंत खुशी कैसे पाये
Author:
सरश्री

Publication:
तेजग्यान ग्लोबल फाऊंडेशन

Pages: 88
Weight: 168 Gm
Binding: Paperback
ISBN13: 9788173157424
Hard Copy Price:
25% OFF
R 150
R 112
/ $ 1.60
Shipping charges will be applicable for this book.
For International orders shipment charges at actual.
Buy Print Book
Standard delivery in 2-3 business days | Faster Delivery may be available
Preview
Summary of the Book
(Children Book)

In the eternal quest for happiness, we go through seven levels of happiness until we attain what we have always wanted – ultimate bliss. This book shall teach you to move to higher levels of happiness. It shall open a pathway to true and everlasting happiness that eludes us. It shows us how it is possible to attain true instant happiness – Here and Now! This book is the beginning to shift to higher levels of consciousness. It reveals the secret of happiness.