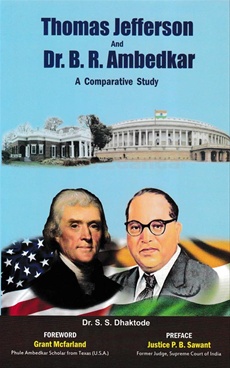 Thomas Jefferson And Dr. B. R. Ambedkar
Author:
Dr. S. S. Dhaktode

Publication:
Bhashya Prakashan

Pages: 713
Weight: 948 Gm
Binding: Hard Cover
Hard Copy Price:
25% OFF
R 899
R 674
/ $ 9.63
Shipping charges will be applicable for this book.
For International orders shipment charges at actual.
Buy Print Book
Standard delivery in 2-3 business days | Faster Delivery may be available
Preview
Nitin Dhaktode
06 Nov 2017 05 30 AM
It is indeed pleasure to read such book that have in-depth intellectual reflection on the two great personalities those fought for justice. This provides the theoretical glance of the ideal society that promote adequate liberty and equality with human development paradigms. The book is biggest contribution for the social sciences researcher who want to understand the society and idea of social justice.
harjap singh
05 Mar 2017 05 30 AM
One wonders the striking similarities between their hobbies and views on various subjects despite the fact that Thomas Jefferson and Dr. Ambedker where born in different countries sin different centuries and lived their life in different socio- political and economic conditions
mahesh bhartiya
04 Jan 2017 05 30 AM
EXCELLENT BOOK ON TWO GREAT PERSONALITY