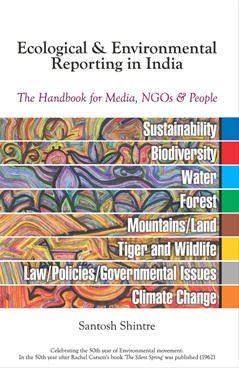 Ecological And Environmental Reporting In India
The Handbook For Media, NGOs And People
Author:
Santosh Shintre

Publication:
Sakal Prakashan

Pages: 224
Weight: 325 Gm
Binding: Paperback
Hard Copy Price:
25% OFF
R 490
R 367
/ $ 5.24
Shipping charges will be applicable for this book.
For International orders shipment charges at actual.
Buy Print Book
Standard delivery in 2-3 business days | Faster Delivery may be available
Preview
Summary of the Book
First of its kind in South Asia and India, the Handbook is a pioneering capacity building tool for the constituents of the Indian media, NGOs and the general public; through building awareness about stark realities of critical Nature and Environment issues in India. For mainstream journalists and reporters it will be as handy reference volume- An inalienable part of their work table.

Many NGOs with their own publications, activists and people who enjoy a presence in alternative media will also find it useful.

Fresh students of all media and communication streams all across the country is yet another segment this handbook aims to reach. It will introduce them to the fundamentals of Environmental Journalism with emphasis on the Indian context.

Carefully worked graphics, authentic photographs and detailed illustrations intensify the researched content presented in this volume.