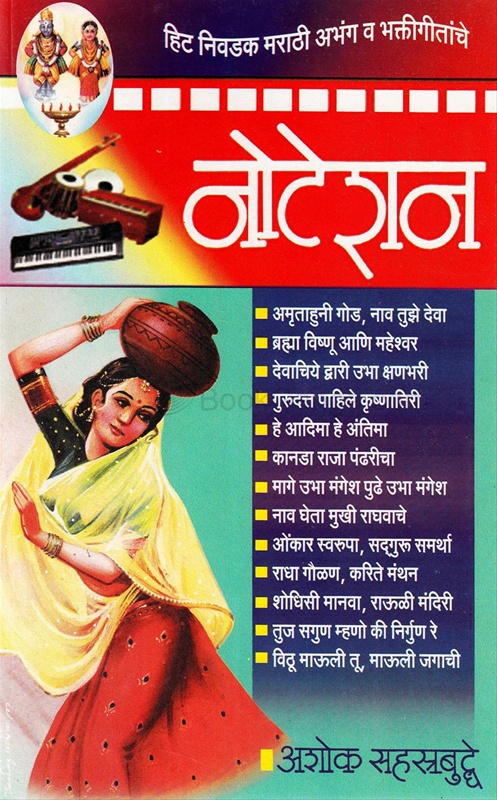 नोटेशन : निवडक मराठी अभंग व भक्तिगीते
Author:
अशोक सहस्त्रबुद्धे

Publication:
मनोरमा प्रकाशन

Pages: 160
Weight: 139 Gm
Binding: Paperback
Hard Copy Price:
25% OFF
R 125
R 94
/ $ 1.21
Shipping charges will be applicable for this book.
For International orders shipment charges at actual.
Buy Print Book
Standard delivery in 2-3 business days | Faster Delivery may be available
Gajanan tayade
18/07/2021
Lagoniya paya vinvito tumgala by suresh sir. Ya abhangache notetiin pahijet sir
सर मराठी अभंग Notation पाहिजे
Deepak Sitaram Sawant
02 May 2021 05 30 AM
Dear Sir / Madam, Request you to please allow to view Notation, require for Harmonia Practice, With Warm Regards, Deepak S. Sawant
Vijay Mendjoge
22/10/2019
I am seeing from last 2 months but i m not getting harmonium notation book pl make me available
vaibhav vasant lot
11 May 2018 05 30 AM
Sir mala marathi natyasangit, Bhaktigit, Bhavgit chi Notetion sah books pahije ahet
Anand talgaonkar
21/10/2018
Mala Marathi koligeete harmonium notation book pahije
Nagesh
07 Sep 2018 05 30 AM
sir mala bhajan,bhaktigeet,bhavgeet,abhang che notation book pahije,please reply my comment nahitar dusara kahi paryay ahe tar sanga
Bandini Bhagat
20/06/2018
I want to purchase Marathi harmonium bhajan notation book, let me know when it is possible?
krishna
03 Nov 2018 05 30 AM
Krishna patil
mala sangeet bhajanache noteshan pahije
SHIVAJI KADU
03 Jan 2015 05 30 AM
mala bhajnache notation pahije
vishal sonawane
01 Jun 2015 05 30 AM
mala video notetion pahije bhetel ka 9503631137
vishwambar sonawane
10 Jan 2014 05 30 AM
mala sangita noteshan pahije
Yashwant Dashrath Adhal
09 Jan 2014 05 30 AM
By book