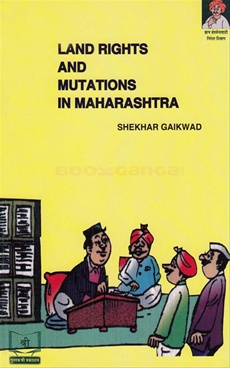 Land Rights And Mutations In Maharashtra
Author:
Shekhar Gaikwad

Publication:
Pustakshree Prakashan

Pages: 112
Weight: 125 Gm
Binding: Paperback
Hard Copy Price:
25% OFF
R 200
R 150
/ $ 1.92
Shipping charges will be applicable for this book.
For International orders shipment charges at actual.
Buy Print Book
Standard delivery in 2-3 business days | Faster Delivery may be available
Preview
Summary of the Book
Shri. Shekhar Gaikwad, the author of this book is a Maharashtra Civil Service Cadre Officer having an experience of 25 years in revenue department. He has held various positions such as Sub Divisional Officer, SDO Solapur, SDO Baramati, SDO Pune, Chief Administrtive Officer, Maharashtra Jeevan Pradhikaran and Addditional Collector Nashik. He is presently working as Joint Secretary in the Chief Minister's Secretariat.
He is a recipient of Rajiv Gandhi Administrative Award 2008, for Home Delivery scheme of Food grains in Nashik, which is seen as an innovation in Public Distribution System. The author is a regular faculty for the foundation courses of Revenue Officers at YASHADA, Pune and visiting faculty in many other institutes.
He has himself handled more than 20,000 land disputes and has a thorough knowledge of revenue laws and regulations.
The author has written a number of books on land laws. He is credited with promoting legal literacy amongst the farming community of Maharashtra. He has received prestigious Deo Mamledar, Award for Meritorious service (Satana, Nashik).Through his website and personal blog, he is in touch with people seeking legal knowledge. The author regularly contributes articles on land issues in various magazines.
The present book is an outcome of his efforts in making legal knowledge of land laws accessible to common man in a simple and lucid manner.