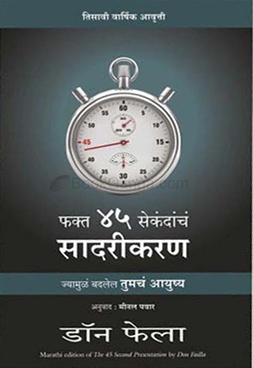 फक्त ४५ सेकंदांचं सादरीकरण
ज्यामुळे बदलेल तुमचं आयुष्य
Authors:
डॉन फेला

Translators:
मीनल पवार

Publication:
मंजुल पब्लिशिंग हाउस

Pages: 162
Weight: 166 Gm
Binding: Paperback
ISBN13: 9788183223089
Hard Copy Price:
10% OFF
R 175
R 158 / $ 2.26
FREE Delivery in Maharashtra on orders over ₹499.00
For International orders shipment charges at actual.
Buy Book
Standard delivery in 2-3 business days | Faster Delivery may be available
Summary of the Book
Marathi edition of 'The 45 Second Presentation' by Don Failla. A very powerful and beautifully written book with lots of examples of how people have used and benefited from these spiritual techniques. Much more than just about getting rich.