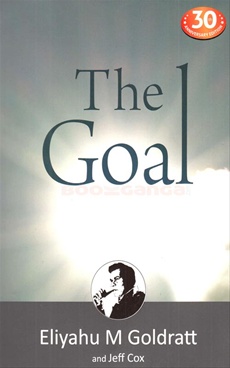 The Goal: A Process Of Ongoing Improvement
Authors:
Eliyahu M. Goldratt

,
Jeff Cox

Publication:
Productivity & Quality Publishing Private Limited

Pages: 400
Weight: 407 Gm
Binding: Paperback
ISBN10: 8185984131
ISBN13: 9788185984568
Hard Copy Price:
25% OFF
R 595
R 446
/ $ 6.37
Shipping charges will be applicable for this book.
For International orders shipment charges at actual.
Buy Print Book
Standard delivery in 2-3 business days | Faster Delivery may be available
Preview
Summary of the Book
In The Goal: A Process Of Ongoing Improvement, the protagonist, Alex Rogo, is in charge of a factory that is hurtling towards disaster. A threat of closure and a deadline of just ninety days drive Alex to work twice as hard in a desperate bid to save his plant and hundreds of jobs.


A chance encounter with an old friend and physicist called Jonah gives Alex some hope. Jonah happens to be Alex's professor from his student days. It is believed by some that Jonah represents the co-author Goldratt himself.


Over a series of short meetings and telephone calls, Jonah helps Alex to break the barriers of conventional thinking and solve his company's problems creatively. Alex's troubled marital life is the focus of a subplot of the book, and it occasionally intersects with the main plot.


The book is fast-paced and gripping. It also contains a serious message in the form of ideas related to the Theory of Constraints developed by the Goldratt. Concepts and thinking processes like the Socratic method and the Evaporating Cloud are explored. The book provides fresh impetus in transforming management thinking across the world.


It is used in the business world and in college courses as a case study in operations management. The Goal: A Process Of Ongoing Improvement is geared towards concepts like the Theory of Constraints, bottlenecks and their alleviation, and the practical application of these concepts. The book demonstrates the importance of strategic capacity planning and constraint management. It has been revised and republished every few years, since its first publication in 1984.