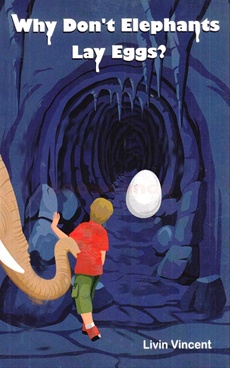 Why Don't Elephants Lay Eggs
Author:
Livin Vincent

Publication:
APK Publishers

Pages: 160
Weight: 213 Gm
Binding: Paperback
ISBN10: 9381791848
ISBN13: 9789381791844
Hard Copy Price:
25% OFF
R 175
R 131
/ $ 1.87
Shipping charges will be applicable for this book.
For International orders shipment charges at actual.
Buy Print Book
Standard delivery in 2-3 business days | Faster Delivery may be available
Preview
Summary of the Book
12-year-old lan David suffers from retrograde amnesia. A terrible accident broke his mind and robbed him of his memories, when he was just nine. But he is not in search of his past identity anymore. Life wasn't easy in the beginning, but it is back to normal noe, thanks to his parents, David and mary.
Like any other kid, he is enjoying his childhood - with his friends Rohan and Aryan, in an exemplary village in Kerala. It's Christmas time, and lan has a lot of plans in his mind. He has decided to patch up his differences with his neighbour - cum - classmate, Jasmine.
However, fate had decided to treat his plans with contempt and derision. One after another challenges popped up, and he has Rohan's valour and Aryan's estraordinary intellect to help him through. But things took a rough turn, when he was confronted with his village's ghastly past.
Nenmara had a story of a superwoman to tell.