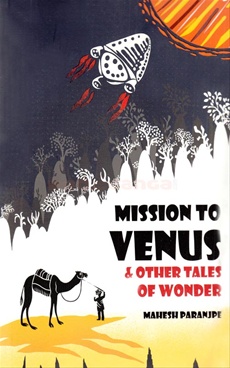 Mission To Venus & Other Tales Of Wonder
Authors:
Mahesh Paranjpe

Publication:
Leadstart Publishing

Pages: 205
Binding: Paperback
ISBN13: 9789381836866
Hard Copy Price:
25% OFF
R 249
R 186
/ $ 2.66
Shipping charges will be applicable for this book.
For International orders shipment charges at actual.
Buy Print Book
Standard delivery in 2-3 business days | Faster Delivery may be available
Preview
Summary of the Book
This fascination collection of science fiction stories brings wonder and intrigue into our mundone, everybody lives as we encounter aliens, other worlds and excitingadventures.
find out what happens on the mission to Venus as a team of crack commandos investigate strange incidents on the newly Terraformed planet. Travel with murar on his amazing journey, as the life he knows is changed forever. Walk with Datta as he delves into a murder mystery using common sense and logic in a tech-enhanced future. And what of Lakshmi, Roopchand and Sopan? Join them as they uncover secrets, make startling discoveries and encounter the unexpected.
Enjoy these and much more as you unleash your imagination and set the child within you free on the Mission to Venus...