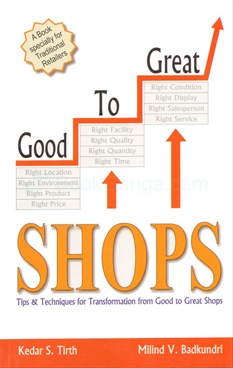 Good to Great Shops (English)
Tips & Techniques for Transformation From Good to Great Shops
Author:
Kedar S. Tirth

,
Milind Badkundri

Publication:
Chandrakala Prakashan

Pages: 160
Weight: 220 Gm
Binding: Paperback
Hard Copy Price:
25% OFF
R 170
R 127
/ $ 1.63
Shipping charges will be applicable for this book.
For International orders shipment charges at actual.
Buy Print Book
eBook Price: 18% OFF R 170 R 140 / $ 1.79
Standard delivery in 2-3 business days | Faster Delivery may be available
Preview
Summary of the Book
• Adapt to the fast changing Retail Scenario and be on the road to success.

• Learn the Sales process and additional selling techniques in a simple language.

• Retain your customers with best Practices in Customer Service.

• A must Read for shop owners , Salesperson , and students interested in Retail.