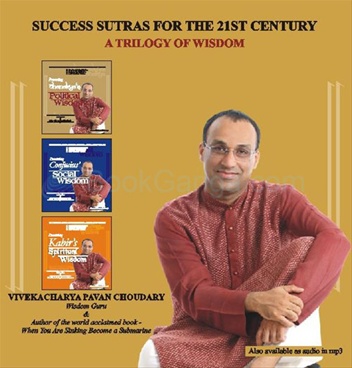 Success Sutras For The 21st Century : A Trilogy Of Wisdom
Set Of 3 Books
Authors:
Pavan Choudary

Publication:
Wisdom Village Publications

Pages: 201
Weight: 500 Gm
Binding: Hard Cover
ISBN13: 9788190655545
Hard Copy Price:
25% OFF
R 290
R 217
/ $ 3.10
Shipping charges will be applicable for this book.
For International orders shipment charges at actual.
Buy Print Book
Standard delivery in 2-3 business days | Faster Delivery may be available
Preview
Summary of the Book
This trilogy of Chanakya's Political Wisdom, Confucius' Social Wisdom & Kabir's Spiritual Wisdom, is a unique commentary that is as much for the common man as for the statesman / politician. In this epic-like trilogy, Wisdom Guru Pavan Choudary provides a ready guide to achieving Political sharpness, Social order and Spiritual bliss. It is indeed a never before rendition and interpretation of the best of Indian and Chinese Wisdom carefully sifted and packaged for Success in the 21st century.

Pavan Choudary provides practical ideas to succeed in the real world by developing your political, social and spiritual intelligence. These ideas are one-of-a-kind and need to broadcast on the world forum for transformation and reform to happen.